When it comes to your work as a sex coach, do you ever feel lonesome? 
Sure, you have interactions with your clients, as well as friends and loved ones outside of work, but how often do you meet up with other sex coaches and sex-positive professionals? Due to the nature of your work, you're probably a solid, valuable part of someone's support system. Do you have a support system of your own? 
Sex coaching is a steadily growing field, but it's still a very small one. Depending on where you live, there's a good chance that you're one of the few sex coaches practicing in your area—in fact, you might even be the only one! Working for yourself is challenging enough; it feels all the more challenging when you don't have a peer group for support. Meeting up with other entrepreneurs is helpful, but you know your sex coaching business isn't quite like other businesses. What's a professional sex coach to do?
Luckily, there are plenty of solutions, including a special opportunity that we can't recommend highly enough!
Online support can go a long way.
For many of us, connecting with other sex coaches online is the most viable option. There are several communities for sex-positive professionals and finding the right one for you will take some research. 
If you're looking for a good place to start, try our Facebook discussion group, Sex Matters! This is a fantastic place to discuss your wins and your challenges as a practicing or aspiring sex coach, see what your peers are talking about, and network with potential allies and collaborators. 
In person networking & support is important.
Although having a virtual community of understanding peers is valuable, there's something special about in-person connections. Our social brains are wired for face-to-face interaction, so even a little can have a tremendous impact on our mood, morale, and motivation to continue our work. 
If there aren't many sex coaches in your area, consider networking with other sex-positive professionals, such as educators, bodyworkers, and therapists. Although they might not be able to relate fully to the work you do as a sex coach, they could still be great allies. After all, working professionally in the field of sexuality is relatively rare, compared to other careers, so you'll still have plenty of common ground. 
If a group doesn't already exist to connect sex-positive professionals in your area, consider pioneering one! Websites like Meetup.com allow you to create groups based on interests and career, making it simple for other interested parties to find you. If you decide to go this route, be clear on who the group is and is not intended for. 
What's the gold standard in peer support for sex coaches?
At Sex Coach U, our top recommendation for sex coach peer support is attending one of our in-person events. 
For example, SAR training (Sexual Attitude Reassessment/Readjustment) connects you with others who want to take their views on sexuality—in both the personal and professional sense—to the next level. In fact, we believe so strongly in SAR as a vital experience that we require it to graduate from our Core Certified Sex Coach™ training program. 
Our founder and the Mother of Sex Coaching, Dr. Patti Britton, has led many powerful, successful SAR trainings. She even wrote the first (and so far, only) book on how to do it well! 
SAR training is offered worldwide, so you have a good chance of finding one near you. When seeking these out, however, aim to choose a SAR that is AASECT-approved. You can find a list of approved SAR sessions here.  And if you're a student or considering enrolling in our Core Certified Sex Coach training program, inquire if the SAR you're interested in is on our list of SCU-Approved SARs.
For the ultimate in-person experience, we have a clear favorite.   
ASPEX is what we like to call "SAR for grown-ups." ASPEX stands for Advanced Sexological Personal Exploration Xperience and is an experiential personal journey of sexual self-discovery.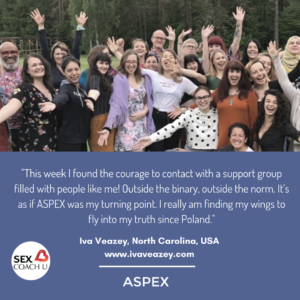 ASPEX happens once a year near Warsaw, Poland, at a retreat center nestled in wild, pristine natural beauty. It lasts for six days and five nights, and it leads to some of the most deeply powerful sexual healing you could wish for. 
Dr. Patti frequently refers to ASPEX as a one-of-a-kind, once-in-a-lifetime experience—and ASPEX graduates agree! Not only do you have the opportunity to grow and transform by exploring your own sexual depths; you also get to share the experience with others while they do the same. 
The result is much more than simply gaining professional connections: you also gain allies and friends who have genuine, loving compassion for you and the work you do. When it comes to support for sex coaches, ASPEX really is a dream come true!
There are still a few seats left for ASPEX Poland 2020, but they won't last—this incredible experience always sells out. If you were eager to read this essay because you're seeking out ways to feel a stronger sense of support, click here to learn more about ASPEX today. It's too easy to feel isolated and alone in this field, but you don't have to. Treat your soul to a big dose of loving encouragement and join us in Poland this summer! 
You deserve the endless benefits that come from feeling supported.
Running your own business is difficult enough. There's plenty of work for you to do on your own, so don't feel any guilt for craving support! If you feel unmotivated, uninspired, stuck, or directionless in your business, a little bit of peer interaction could be just the thing you need to get back on track. We know how much we appreciate you being a part of our community, so don't be shy about exploring others. 
What are your favorite resources for peer support? Do you recommend any groups or live experiences? Tell us all about it on Twitter! We're eager to see what you think, and we know our other engaged followers will appreciate your input, as well. See you there!