Okay, it's time to talk about money, a subject nearly as taboo as sex in many cultures. As practicing and aspiring sex coaches, we know the value of shining the light on sometimes-difficult topics. So at Sex Coach U, we like to be up-front about both sex and finances. This is a long email, but we have a lot of information to share with you, so strap in and read on.
In this essay, we'll address the questions "How much does this program cost?" and "How much can I expect to make as a sex coach?"
The Value of the Core Certified Sex Coach Program
Our program is considered the equivalent to a Master's degree program here in the U.S. Our graduates with Bachelor's degrees in a healthcare-related field can continue on from Sex Coach U to get their PhD in Clinical Sexology through the International institute for Clinical Sexology (IICS), a U.S. accredited university (this degree can be done entirely online).
As mentioned, our program encompasses 21 courses in applied sexology, co-active coaching, and integrated sex coaching, PLUS offers a 13 course program in business and marketing mastery, developed BY sex coaches FOR sex coaches.
Our tuition brings our program into alignment with industry standards, yet keeps it affordable for more people. A comparable business program ALONE offered elsewhere can be as much as $25,000.
So how much does it cost to earn your Certified Sex Coach™ credential from Sex Coach U?
The full tuition when paid up front is $15,597. 
We offer an 18 month payment plan, which breaks down to $935/mo for 18 months (includes 7.9% handling fee).
We also offer an Early Bird discount, which brings the total tuition to $14,597. NOTE: The $1,000 Early Bird discount expires roughly halfway through the enrollment period.
You may qualify for the discount AND use an installment plan. The Early Bird tuition on a payment plan is $875/mo for 18 months (includes 7.9% handling fee). 
Pay in Full Bonus!
For those who pay in full (either the full tuition rate or the Early Bird discounted tuition rate), we're offering an extra special bonus: A live group Masterclass with Dr. Patti herself, called "How to Show Up as a Media Pro."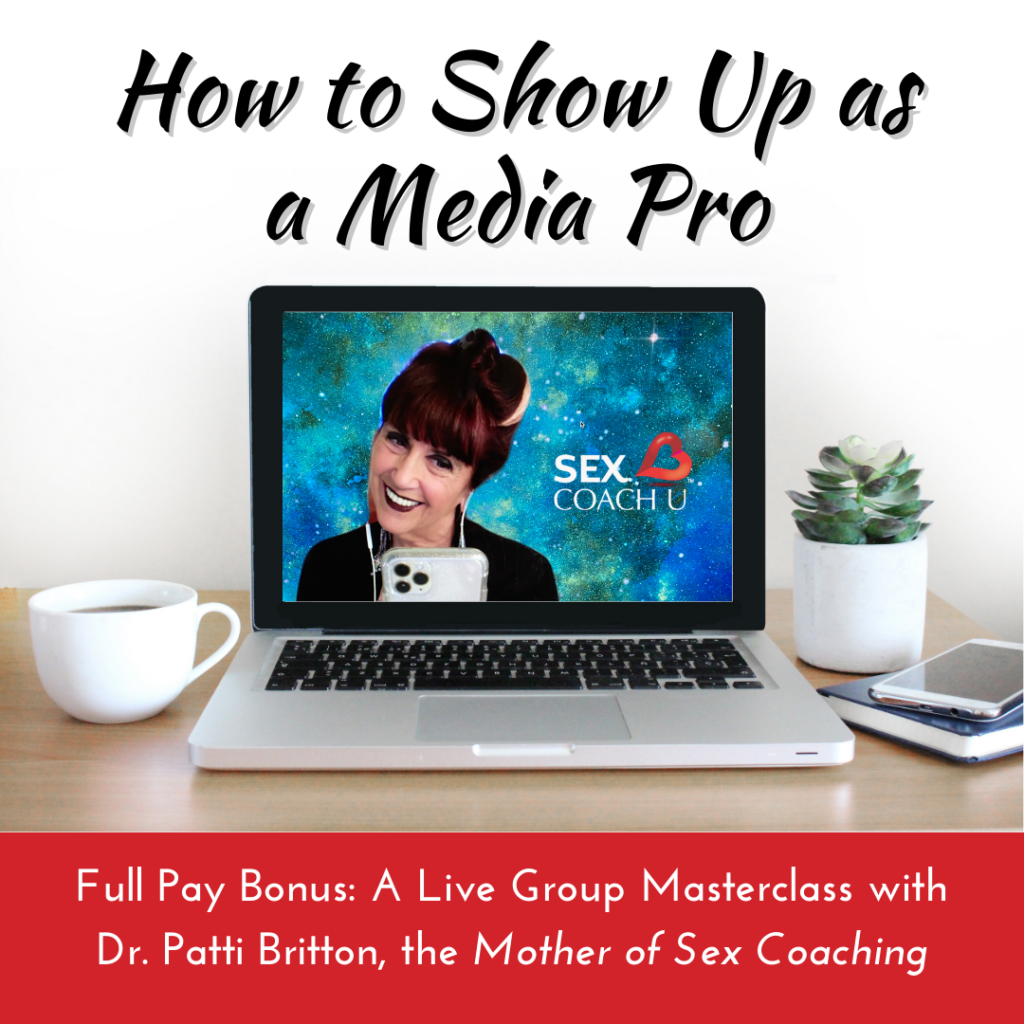 This fantabulous Bonus Webinar "HOW TO SHOW UP AS A MEDIA PRO" is hosted by none other than Dr. Patti herself. She has been the featured expert on hundreds of television and radio shows, a popular guest on many virtual summits and podcasts, and is quoted extensively in print media galore. 
She will reveal behind-the-scenes scoops on how to romance the media, how to handle tough interviews, how to prepare for on-camera work, the ins and outs of live tapings, on the set for a live media shoot, and more. Don't miss this exciting chance to learn from a pro. 
You're going to learn when and how to pivot and how to use media to your advantage, no matter what happens! Plus, Dr. Patti is ready to share her juicy tell-all set of stories about the best and worst of her media appearances. Most of all, you'll get to know how to have fun while you max your media mojo! 
Please review our FAQ page for information on the cost of books and materials, as well as the costs to attend your required SAR training.
Now for the good stuff: How much can you expect to earn as a Certified Sex Coach™?
Sex Coach U typically pays for itself within 6-18 months of graduation, depending on how much time you dedicate to your practice. And many of our graduates are now enjoying (or are well on their way to) a six-figure practice.
Your earning potential is truly unlimited. There are endless ways to scale up your sex coaching business to build the lifestyle of your dreams.
It all depends on you.
And that's the beauty of this career. It is your choice—you can work part-time or full-time, you can build passive income or spend lots of time among people. 
You can engage with clients in one-on-one sessions and charge by the hour, you can work with clients in larger groups (group coaching, workshops, presentations, etc), or you creatively design a career that mixes and matches ideas to develop multiple streams of income and ways to work with clients. The choice is yours. 
According to Sex Coach U alumni, you've got a variety of ways to leverage your training to build a profitable sex coaching business. 
Here are just a few ways you'll be able to increase your income (most of these can be conducted virtually): 
Individual One-Off Sessions: $125 – $300 per 60 minute session

Monthly Coaching Packages: $500 – $1,500 per client

Group Coaching: $60 – $100 per 60 minute session per group member

Workshops: $35 – $600+ per participant

Retreats: $500 – $8,000 per participant

Online eLearning Product: $10 – $750 per enrollment

Membership programs: $37-97 per month, per participant
Need more ideas of what you can do with this certification? 
You can attach your own price tags to any of these activities to further enhance your income potential (many of these can be done from the comfort of your own home, an important consideration during situations like this pandemic):
Training professionals in your area and around the world

Individual client intensives 

Speaking on stages to large audiences

Touring college campuses

Teaching a course that you design at a university

Creating sexuality-related content for journalism, podcasting, and broadcast media 

Publishing books that showcase your knowledge and are accessible by thousands
The sky really is the limit to what you can do and how far you can reach. 
The Core Certified Sex Coach™ training program costs less than a Master's degree…and you'll have far more training hours in sexology once you're finished. Besides, no Master's degree in sexuality, counseling, or therapy trains you for having a successful business—this is absolutely THE missing link.
If you haven't joined the Waiting List, now's the time. We only open enrollment a couple times each year, and the number of new students we can take on each time is extremely limited. Waiting List subscribers get the earliest opportunity to apply for our program.