The Business of Sexuality Specialists (BOSS) Curriculum is designed to give you all the building blocks to create and run a successful and financially viable sex coaching business.
You have two options to make your business training journey your own.
You can either work through all 13 in-depth courses in order (see below for synopses and learning objectives for each), where you get the benefit of each course building on the material that came before. You'll have a complete understanding of everything you need to know and do to launch and grow a sustainable business.
Or you can access the material through the BEEHIVE, our searchable database of short lessons on targeted questions or concerns you need help with at any given moment. The BEEHIVE stands for Business and Entrepreneurial Excellence Harnessing Insight, Value, and Expertise. This more circular model empowers you to keep the momentum going when you just need guidance on a specific concern.

No matter which way you choose to complete this training, BOSS students also get access to numerous avenues for LIVE support.
We offer weekly coworking Zoom sessions where you can hold yourself accountable and utilize your community to be more productive.
And several times each month, you get the opportunity to attend group coaching calls that address either your money mindset & prosperity consciousness OR your strategy & implementation. You get targeted business coaching and mentorship from the BOSS directors as well as peer community support.
Are you ready to claim your place as a successful sexuality entrepreneur with a thriving practice?
Click below to join our Interest List.
You're about to embark on an exciting journey to manifest the career of your dreams!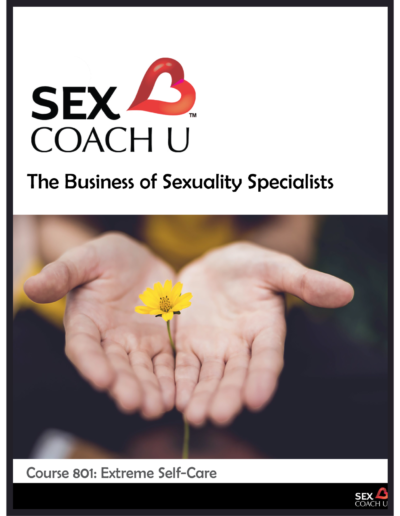 We start off by focusing on your inner reality. In order to create, launch, and run your own sex coaching business, you have to be a ninja at self care. 
You will develop an understanding of what self care is and why it's so vitally important to a successful career. You'll learn how to assess whether something is an energy drainer or energy gainer. You'll explore some daily rituals you can engage in to empower yourself. We'll discuss some of our favorite time management tools and apps.
In this course, you will gain mastery over:
Framing your business as an independent business owner

Understanding Extreme Self-Care and how to cultivate it

Managing your energies and tolerations

Enacting a powerful daily self empowerment ritual

Managing your time effectively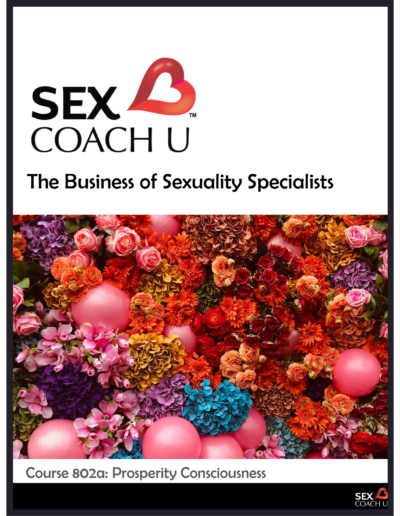 Continuing with your inner reality (or the "Inner Game" as we like to call it), we focus next on your money mindset. Ever notice how the taboos around money and sex are eerily similar? Are you curious about the beliefs and scripts about money that hold you back? Want to know what you can do about them? Prosperity Consciousness is a set of specific practices and becomes your pathway to freedom from these limiting beliefs.
We guide you through understanding what Prosperity Consciousness is and why it's so vitally important to your career as a solo or entrepreneur. You'll explore your deeply held beliefs around money from the past and learn how they affect you in the present. You'll learn techniques for shifting and reframing your relationship to money and how to cultivate your garden of prosperity. You'll get to explore some prosperity consciousness practices, which you may choose to use to empower your entrepreneurial life.
In this course, you will gain mastery over:
Defining your own interpretation of Prosperity Consciousness

Identifying your Financial Thermostat and how it affects you

Recognizing your beliefs and attitudes about money, wealth, and rich people

Discovering affirmations to empower yourself for higher levels of wealth

Exploring places of abundance and discussing the impact of those experiences on your views and feelings about abundance

Integrating tools for self-growth regarding money, wealth, and prosperity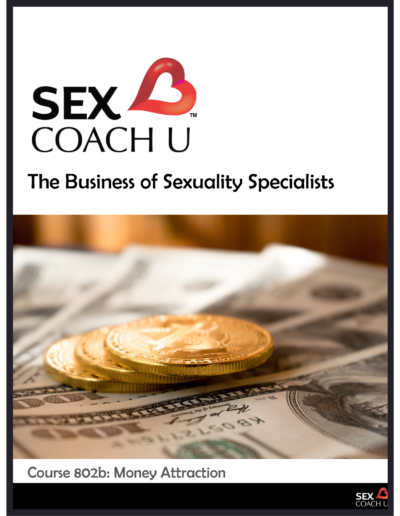 In this course, you will learn how to draw money, wealth and expanded prosperity into your life and business. This is going to be a rare peek at inside secrets, brought to you by the life experience of Dr. Patti and based on much of her personal training in various modalities for prosperity success. You will walk away with knowledge and resources you can instantly employ to change the quality of your financial wellbeing.
In this course, you will gain mastery over:
Demonstrating an understanding of the tenets of money attraction

Showing a comprehension of the Law of Attraction and how it works

Discussing your Financial Thermostat status and the reasons for desiring money in your life

Defining the power of positive intentions as it applies to the process of a Vision Board
Describing a variety of specific tools for money magnetism, such as Feng Shui, magical elements, neuro-science, sensory shifting and power objects

Indicating the use of rituals as it applies to your money attraction knowledge and skills
Financial Awareness & Management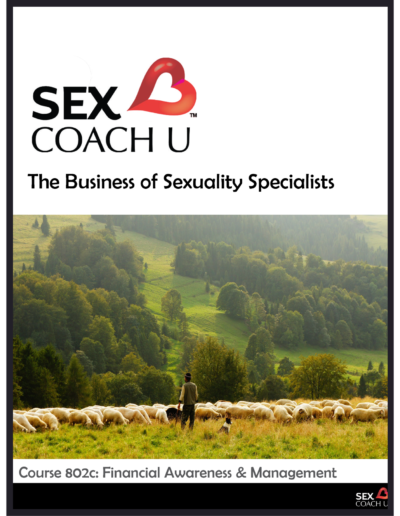 This is the final piece of your Inner Game work in the Business of Sex Coaching program. This is a critical course on Money Management. In this review of what you need to know, you'll get a step-by-step walkthrough on how to create a workable picture of your income and expenses. 
This dynamic learning process is going to revolutionize your thinking and skills in money management. We will also cover your values that drive your business, how to manage a spending plan that fits your personal and professional needs, desires, and constraints, and develop a plan to reach your financial goals with ease and clarity. 
In this course, you will gain mastery over:
Defining your values and desires for your financial life

Understanding and monitoring your current financial position
Creating a spending plan in integrity with your values and desires

Establishing financial security through debt reduction and emergency planning

Creating and achieving financial goals in service of your highest good
Strategic Planning for Success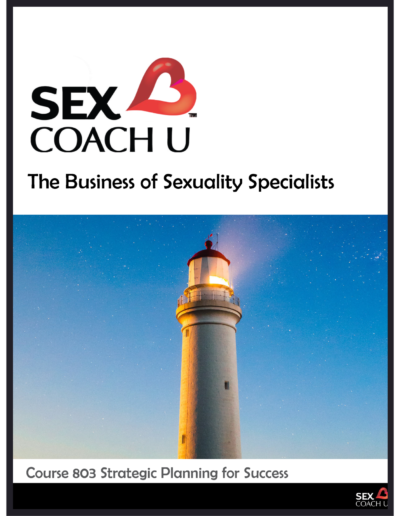 Moving past the Inner Game, we now focus on the nuts and bolts of planning for, designing, and creating the template for a successful business. In this course, you will learn the distinctions between Vision and Purpose, Strategic Goal Setting, outlining Strategies, and how to conduct a SWOT analysis. You will learn how to bring this together in the creation of a Strategic Business Plan with a live demonstration of how this powerful assessment process works. You'll also learn how to identify milestones, including finding strategies for defining when you know you are "there."  
This is the foundational course that will help you to craft your business strategy for manifesting your dreams into reality. 
In this course, you will gain mastery over:
Understanding different business models you can use

Designing a business model for your sex coaching practice

Planning early income producers for your business

Building a business strategy plan

Integrating a strategic mindset in your approach to your business

Revisiting and evaluating strategy over time
Ideal Clients & Customers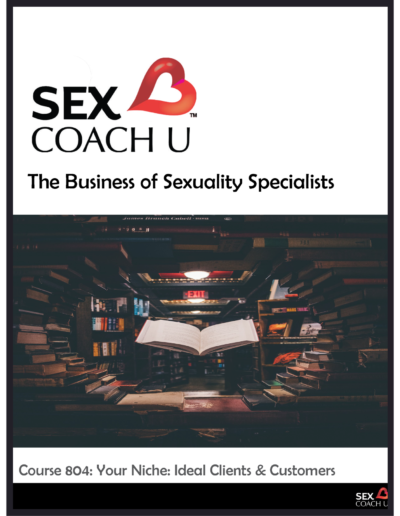 In this next installment of Outer Game work, we focus on helping you identify and get to know your ideal clients in depth. In this course, you will learn to identify who you want to serve, how to create client avatars, and how to conduct initial research about your ideal clients. You will learn the foundational skills you need in order to use this powerful toolkit over and over again as you grow and develop as a professional. 
Spoiler alert – your ideal client type will change and evolve over time! We share behind-the-scenes insights from our own private practices and the evolution of the type of clients we have served over time. 
In this course, you will gain mastery over:
Understanding who you want to serve and why you want to serve them

Creating client avatars to guide your marketing efforts
Speaking to your ideal clients in their own language

Understanding the hopes, fears, pains, and dreams of your ideal clients

Conducting in-depth research into your ideal clients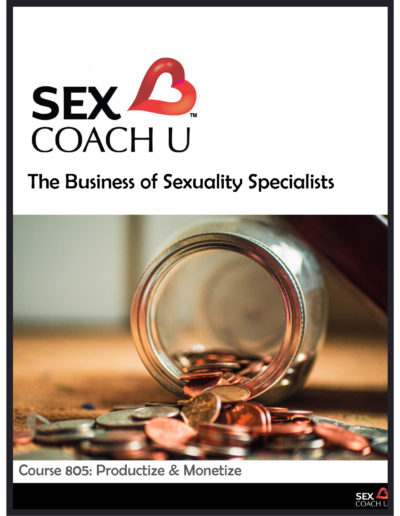 Next, we focus on how to take your skills and competency as a sex coach, as well as your unique gifts, and turn these into products and service offerings that pay.
In this course, you will learn many options to monetize your message and how to approach pricing in order to thrive.
You will develop the skills to run your business by the numbers through creating a financial forecast and a traditional business plan. This is where the rubber hits the road in turning your dreams into reality!
In this course, you will gain mastery over:
Creating products of great value to your ideal clients & customers

Creating compelling offers that monetize your message

Pricing your products, services, and packages to thrive
Developing packages that serve your clients and your bottom line

Creating financial forecasts and business plans
Educational Product Development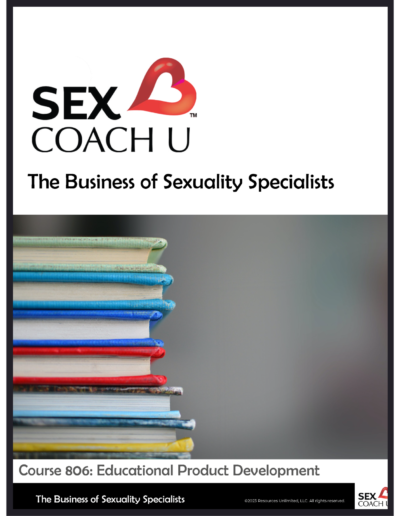 In this segment, you will learn how to convert your ideas into educational products. This course covers the basics of: Event planning and promotion; curriculum development; content delivery formats with an emphasis on the distinction between informational, educational and training types of events; establishing the safety and effectiveness of your teaching container, with handouts that show you simple and handy templates for creating your educational products.  
Finally, using the book, "Designing and Leading a Successful SAR," you will discover the secrets for smooth group process and defining the key elements for making hot educational products. This course will assist you overall in making the right decisions for the best way to promote and conduct educational events that sizzle. 
In this course, you will gain mastery over:
Understanding the array of educational products you can create and sell as a sex coach

Planning and promoting events for profitability and success

Developing curricula for your educational products

Creating and delivering the content of your educational products

Holding space for your students and managing group processes

Evaluating and evolving your educational products for continuous improvement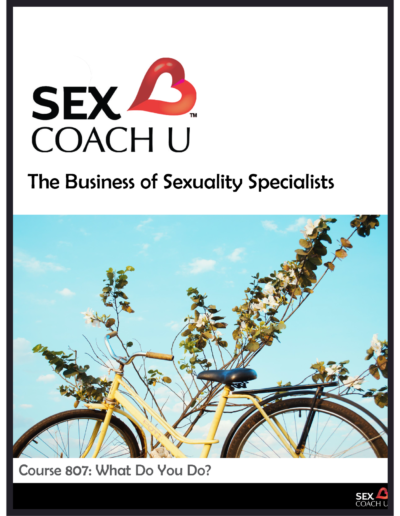 In this BOSC course, you will be presented with a detailed overview of the seven elements for crafting your signature speech, one that answers the pivotal question that drives all of your marketing: "What Do You Do (WDYD)?" As a sex coach, you will need to articulate these seven elements to be able to respond in a one-minute elevator pitch or an elongated response that could be the point of an entire workshop or training, derived from what is known as the Accordion Effect. 
Elements will build on what you have learned so far, and will help you to look carefully at aspects of your business, such as its primary benefits and positive values that address your ideal client's pressing needs, your credentials/credibility, program features, target niche, and CTAs as examples. Mastering the WDYD answer is going to pivot you to become successful and attractive to your client and customer base. 
In this course, you will gain mastery over:
Defining your brand or business by name and citing your credibility and vulnerability highlights

Identifying your niche or target market in simple terms and naming your target market's top three Points of Pain

Describing the top four benefits of your business services, programs, or products created for your niche

Speaking about the top three features of your business

Citing at least one Call to Action

Reciting a powerful What Do You Do speech in a variety of scenarios, from a brief elevator speech to a much longer summary and personal presentation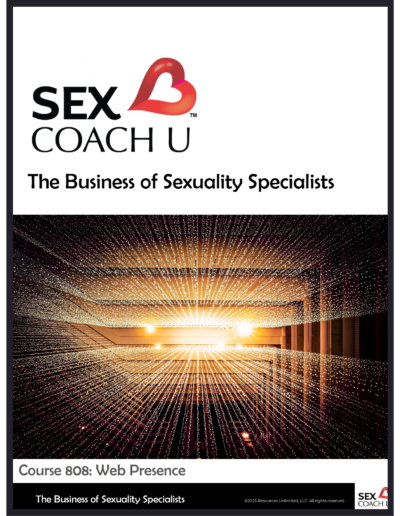 One of the key elements to business success is Web Presence. In this BOSC course, you will learn the general themes about your presence online. You will learn to define the purpose of your online presence, how to identify yourself and your brand, how to leverage a compelling presence building on what you gleaned from WDYD, and how to land on the right tone, color, font, voice, images, and style for a killer web design. 
We will also discuss the beauty of outsourcing, our best tips for social media success, what makes for good social proof, and the best social networks for your brand. We'll touch on the artful use of testimonials and how to cultivate media savvy. From soup-to-nuts, we will show you how to elevate yourself online as a go-to sex expert and sex coach supreme. 
This course is deep, complex, and tactical. We will also demonstrate a teardown of selected site(s) and reveal our own insider secrets for your success! 
In this course, you will gain mastery over:
Deciding what degree of web presence, if any, you need to reach your ideal clients and customers

Competently evaluating your technical needs and making sound decisions

Communicating your unique brand story digitally, through colors, fonts, logos, words, and other digital elements

Creating a compelling website

Leveraging social media for your business

Outsourcing tasks to remain focused on your "Zone of Genius"
Marketing Implementation & The Launch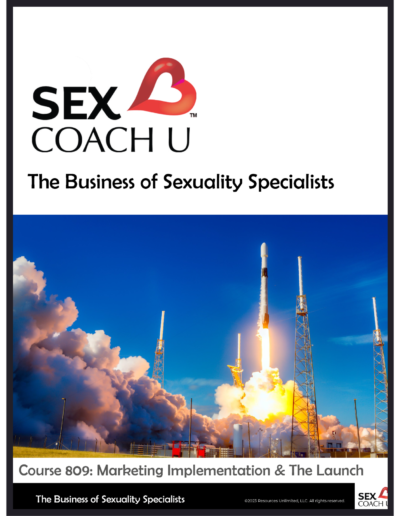 Taking our next steps in Outer Game work, this course will anchor you in the knowledge and skills you'll need to promote your program, service, or product. First, you will review core marketing concepts covered so far; then you will apply what you have discovered to create your overall action plan. 
In that careful evaluation, you will investigate blocks to implementation of your plan, identify your top challenges, get creative about steps for overcoming these roadblocks, and decide where you go from here. We will dive deeply into the concept of—as Jeff Walker called it—"the Launch," a term familiar to most businesses. 
Knowing how to define, plan for, and execute a successful Launch will be revealing of successful strategies for marketing your brand. Finally, we will uncover what may be applicable systems for the Launch, and share how our own business uses these systems as a role model for success. 
In this course, you will gain mastery over:
Understanding marketing terms and how they are relevant to your business

Integrating a marketing mindset that feels good

Building an audience of your ideal clients

Engaging your audience to deepen relationships

Launching your products and services to drive sales and profit
Enrolling and Onboarding New Clients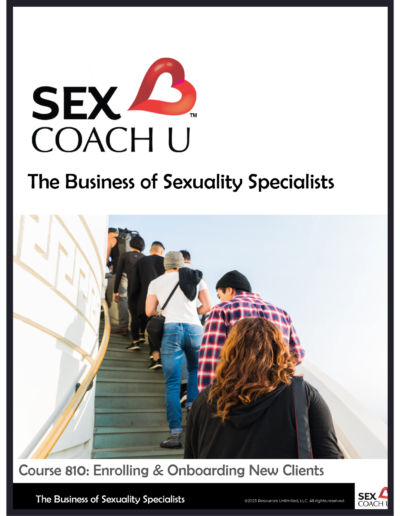 We've covered all of the necessary steps to get you launched and on your way to serving your client base! Now, it's time to learn how to enroll or sell your prospects for your varied products and services. You will learn about our own training motif, with the secrets of how to convert a prospect into a buyer, along with how to vet a potential client with the perfect intake mindset and skills. 
We will be featuring tried and true techniques for anticipating and addressing potential resistance factors, how to move the conversation forward in an enrollment or sales call, and how to ace it! 
Finally, we will reveal our own successful model for how to onboard a new client, sharing our systematic approach to the start of a coach-client or coach-student relationship. 
These are some of the "gold nuggets" you will need to close a sale, rock it, and make the bells ring in your sales funnel! Plus, it's enjoyable when you feel the shift in energy that we are going to teach you as you become a stellar sales person, especially if, up until now, you've hated the concept and term "sales." 
In this course, you will gain mastery over:
Developing a sales mindset and an approach to sales that plays to your strengths

Creating a pre-sales approach that qualifies your prospective clients

Selling from service, with heart and soul

Addressing the objections that arise during the sales process

Preparing your clients for success with expert onboarding
Scaling Your Practice & Soaring Toward Sustainable Success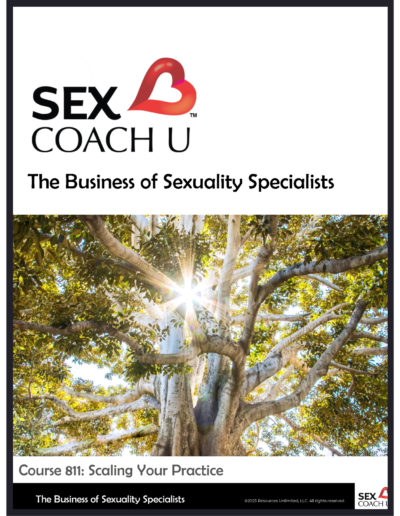 In this final installment of the BOSC program, we'll be taking you through the art and science of scaling your practice. At this point in the program, you have covered everything you need to build a successful practice. The next step? Growth. As your business grows, you will face new challenges. Let's get ready for them. You'll learn about how to work on your business, not just in your business. 
What's your zone of genius? How do you master the referrals, resources, networking and expansion needed to bring your business to the next level? You'll learn how! You'll also discover how to build a powerful team to accelerate your profitability by making sure everyone is playing to their strengths. We'll dive into goal setting and ongoing evaluation techniques to make sure you keep your finger on the pulse of your business as it grows beyond you as a solopreneur.
And finally, we'll be sharing with you some of our unique stories of trial and error, letting you in on our own trade secrets for sustainability and thriving in business as a professional sex coach. Knowing where you want to go is part of the magic of getting there. Writing a Letter to Your Future Self may be the greatest gift you can give yourself as you complete the journey for your business to shine and to manifest the life you want. 
In this course, you will gain mastery over:
Integrating a mindset to scale and take your business to the next level

Creating an action plan to systematize your business

Implementing a process for building your team

Expanding your reach to connect with more ideal clients

Setting goals for your journey onwards
Group Coaching Sessions: 54 Hours
Total Estimated Completion Time: 210 Hours
Ready to Enroll?
Are you ready to claim your place as a successful sexuality entrepreneur with a thriving practice?
Click below to join our Interest List and get the earliest access when we re-launch in the Fall of 2023.
You're about to embark on an exciting journey to manifest the career of your dreams!